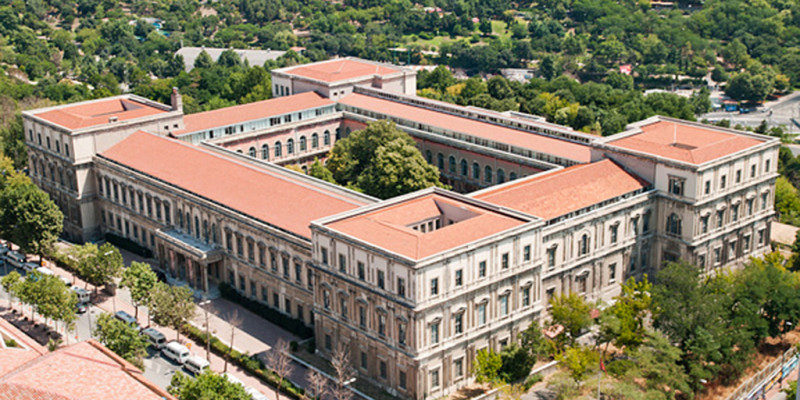 Istanbul Technical University is known as one of the oldest technical schools in the world. This institution is the first technical university in Turkey and boasts of having advanced architecture and engineering education. With over 247 years of rich history, this institution has become a science center that links the past to the present and manufactures remarkable projects for the future. ITU provides training on 5 different campuses which arelocated in the central area of Istanbul. Also, it provides 67 undergraduate programs spanning 14 faculties; doctorate, and master programs in 7 institutes. There are over 350 research and development laboratories and approximately 15 research centers.
Read also: Altinbas University, Turkey: Ranking and Cost Of Study
Accommodation services and Financial Support
Accommodation services are offered students on several campuses with a capacity of over 3,500 students. Also, financial and food support and various levels of the dormitory are provided to the students within the purview of the scholarships which are supported by private institutions, individuals, and ITU foundations.
International Admissions
Admission – Undergraduate Programs
Who can apply?
The sets of people who can submit applications are;
Foreign Nationals
Turkish citizens by birth particularly those who are allowed to cease from Turkish citizenship as stated by the Ministry of Interior Affairs with their young kids.
Individuals with dual nationality; particularly the foreign nationals by birth who acquired Turkish citizenship later on.
a) Turkish students who commenced secondary school education in a foreign nation before the date of 01/02/2013 and are among the individuals who have completed secondary school education (at least three years) in a foreign institution except for North Cyprus.
b) Started the secondary school education in a foreign country after the date of 01/02/2013 for those who have completed their high school education in abroad except North Cyprus have the opportunity to apply for the quota for foreign students.
TRNC nationals living in TRNC and are undergoing their secondary studies in TRNC with exam scores in GCE AL and, are TRNC nationals educated and registered in high schools and colleges in other countries between 2005 to 2010 and who have already written or who will write GCE AL exams will be admitted.
Read also: Full List Of Universities In Mauritius
Admission – Graduate Programs
As a reputable research-intensive institution, ITU is known to focus more on the development of graduate and post-graduate studies. Thus, this institution is dedicated to the training of MSc and Ph.D. students with exceptional academic and research skills for the advancement of contemporary science and technology to encourage innovation.
As a result of this, ITU runs these programs (MSc and Ph.D.) in six different institutes which include;
Energy Institute
Informatics Institute
Earthquake Engineering and Disaster Management Institute
Graduate School of Science, Engineering, and Technology
Institute of Social Sciences
ITU Eurasia Institute of Earth Sciences
Ranking
According to Nature Index, which ranks institution based on the articles published in the world's most reputable scientific journals released their reports in 2019. According to the reports published, ITU was the number 1 among public universities and ranked second amongst the higher institutions from Turkey.
In 2020, an index was published on 30 April 2020; this institution came second amongst other universities in terms of "research" and came out top as a state university. Amongst the institutions located in the West-Asia region, ITU was ranked 9th. Also, this prestigious institution was announced as the best learning institution in Turkey in the field of "Nature and Science" and also ranked ITU 6th based on the research carried out in this particular field among the countries in the West-Asia region.
As at this moment, ITU has 93 scientific publications in several research fields such as Chemistry, Physics, Social Sciences, Earth Sciences, and Environmental Sciences. Points were provided based on the ranking of the top educational institutions in Turkey. In this computation, Bilkent University was ranked as number 1 with 14.09 points; ITU came second with 13.33 points, while Bogazici University came third with 4.51 points.
Furthermore, it was reported that Istanbul Technical University publishes scientific articles based on its scientific research and it was able to amass 5.45 percent nationally and boast of 94.55 percent international institutions.
Read also: University Of Warsaw, Poland: Ranking, Fees and Admission Process
2020-2021 Academic Session Graduate Pre-Registration Calendar
The application date for both master and doctorate programs will commence on May 28, 2020, and will close on September 18, 2020. Note that the transfer applications for this category of students fall within this date. Interview for the prospective students is slated to take place on 21 – 28 September 2020. The interview commission will meet on September 28, 2020, to review the interview and the winners will be announced on September 30, 2020. The final registration for new students is expected to happen on 6-9 October 2020. The substitute lists will be announced on October 13, 2020, while the last schedule is the announcement of fall term courses which is bound to happen on October 16, 2020.
Undergraduate Intake
Undergraduate intake takes place once a year. Note that ITU does not admit new students' mid-term. The 2020-2021 academic year calendar will be published soon on their website. The prospective students have to sit for an English proficiency test which will be submitted during registration. Any student who fails to provide this report as requested will be mandated to complete the English preparatory course in ITU's college of Foreign Language for one year. Students who sit for the exam and obtain the required score will be exempted from this preparatory class and can directly apply for their undergraduate program. However, these students are required to improve their Turkish language skills to at least level B. Several documents are required by the admission committee and they include; high school diploma, official transcript, valid test result, photocopy of passport, blue card (from Turkish Government), Residence Permit, and Statement of Purpose.
Application procedures and registration
The evaluation process coupled with the placement of applicants is done by ITU and they are permissible to fulfill the quotas. This implies that even if an applicant meets the application requirements, it does not guarantee their admittance to the university.
If you desire to study in a prestigious institution in Turkey, choose Istanbul Technical University